Portfolio
Open access to material from my research project 'Disentangling the domestic contract: understanding the everyday-life construction of acceptability -or non-acceptability- of keeping and killing animals for food'​ (right-click to save target on your device):
-The complete dissertation (pdf)
-The English summary, the Dutch summary, or the Turkish summary (pdf)
-Interpretive research design (methodology chapter, pdf)
-The depiction of the clusters of reasoning and behaviour (high resolution png)
-The Inner decision committee model (flowchart)
-The Inner decision committee model (impression)
-What is careful livestock farming? Substantiating the layered meaning of the term 'careful' and drawing implications for the stakeholder dialogue (journal article)
-Exploring the Framing of Animal Farming and Meat Consumption: On the Diversity of Topics Used and Qualitative Patterns in Selected Demographic Contexts (journal article)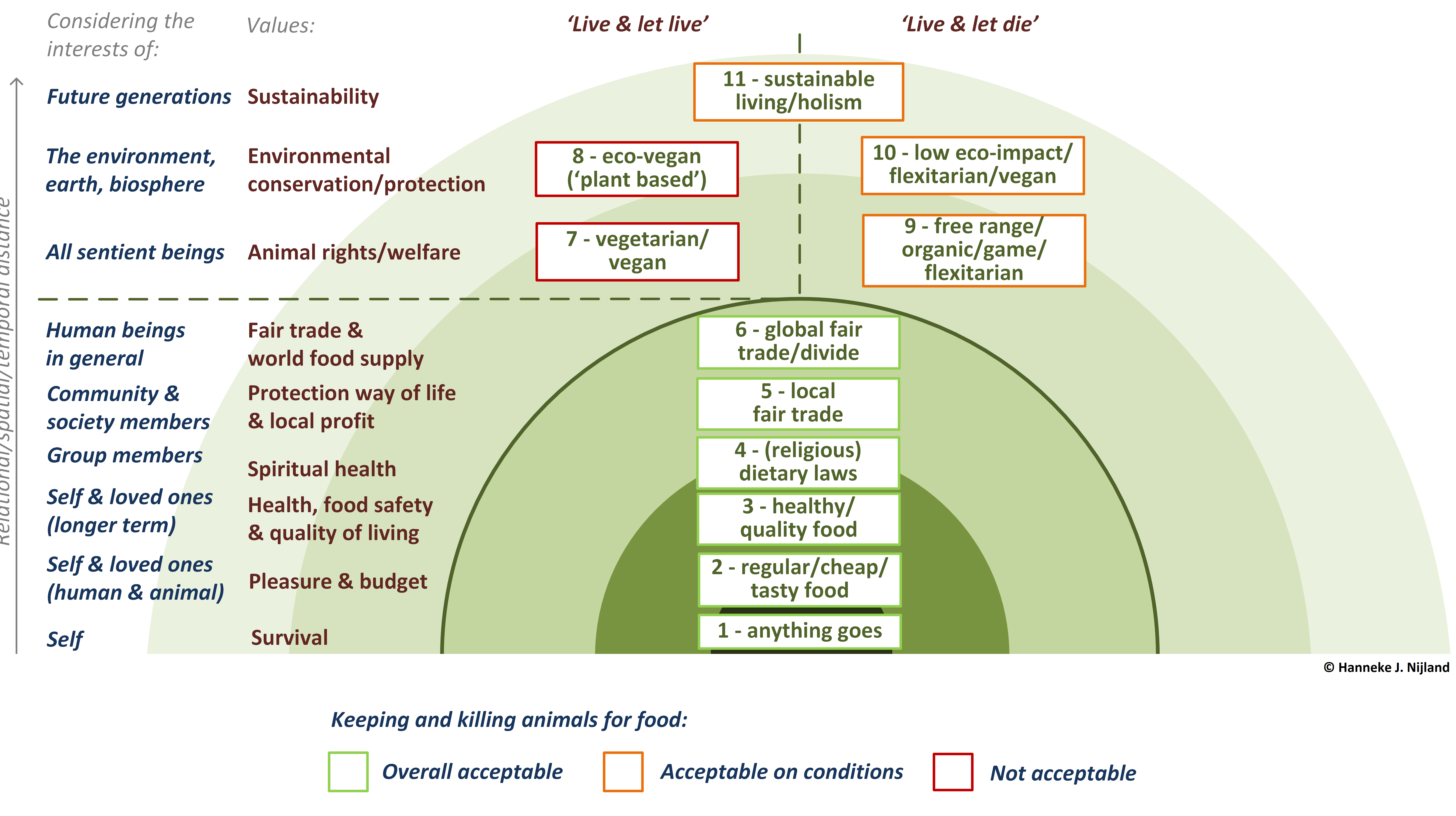 Recent projects include:
-Designing and conducting focus group interviews for a research project on coping strategies uttered by dog owners.
-Giving a seminar 'Denkpatronen Dierlijke Productie en Duurzaamheid Doorgrond' for the Sustainable Week Boxtel (Duurzame Week Boxtel) in cooperation withTransitie Boxtel, ZLTO Dommel en Aa and OVL
-Giving a leture on animal activism for the Otherwise Foundation
-Giving the interactive seminar "The acceptability of animal farming and related consumption behaviour: the keys to understanding your own and others' reasoning". At among others Wageningen University, Hohenheim University (Stuttgart), and the 7th International Conference on the Assessment of Animal Welfare at Farm and Group Level.
-Research consultancy for a zoonosis research of the Dutch Ministry of EZ & Van Hall Larenstein, for Wageningen Livestock Research
-Organising a workshop 'An intercultural dialogue on social and cultural contexts of livestock production' with dr. Wiebke Wellbrock and dr. Birgit Boogaard for the Tropentag 2017 conference in Bonn.
-Designing and guiding an empirical (interpretive analysis) research on the perceptions of the effects of breeding measures on the welfare of dogs, for philosopher Bernice Bovenkerk's VENI program 'The Ethics of Domestication'. Click here to read our first article (open access).
-Mentoring groups of students in designing and performing their first empirical research for the course 'Communication and Organisations' (Wageningen University)
-Academic consultancy for Wageningen University academic masterclass
-Consultancy on writing research proposals.
-Various guest lectures, on research methodology as well as communication strategies regarding animal husbandry and meat eating, at Wageningen University and Radboud University Nijmegen
For an overview of my research & consultancy experience before I started working as an independent researcher and my teaching affiliation with Wageningen University, please have a look at my LinkedIn page.